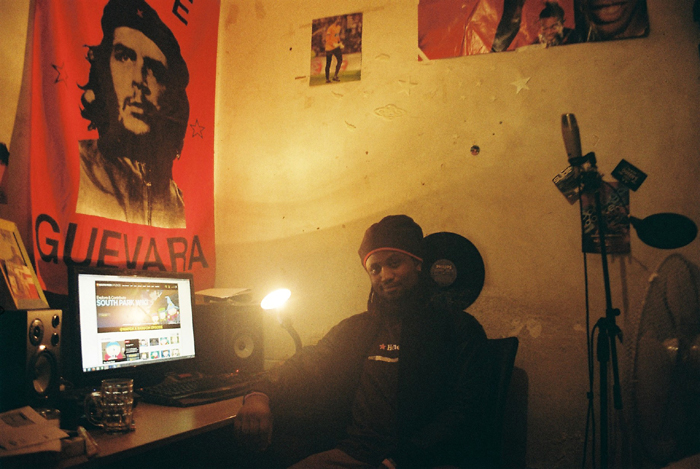 DJ Nigga Fox. Photo by Marta Pina.


With his 'O Meu Estilo' 12" EP debut release in 2013, DJ Nigga Fox crashed the gates of Lisbon's Príncipe Discos crew, famous for nurturing an exciting youth and sonic culture in the Portuguese capital. His follow up on Príncipe in 2015, the extraordinary 12" EP 'Noite e Dia', had Resident Advisor praising 'the four tracks [which] are so bizarre and delirious they're almost intimidating, and yet they're exuberant in a way that could liberate dance floors'.
In early 2017 he followed with the one-sided 12" '15 Barras', a soundtrack to an unrealised collaborative installation. Its long-form composition is a four-part movement of virulent acid, screeing strings and crowd noise unfolding over a seamless 15-minute arrangement, pushing his music to new conceptual limits. His by now extensive live CV includes thunderous performances at Sónar Barcelona and Roskilde among other festivals, besides slaying the Berghain crowd on in Berlin's techno cathedral and delivering epic performances out of Euroland such as at NAAFI Residencia at Fundación Jumex Arte Contemporáneo in Mexico City and at MONA FOMA weekender Faux Mo in Hobart, Tasmania, as part of his debut East Asia and Oceania tour in early 2018.
His new EP, the magnus opus 'Crânio', was released on 9th March on Warp Records. Six tracks of shapeshifting dancefloor psychedelia, or as Phil Sherburne aptly introduced it for his Pitchfork review 'for his first release on Warp, the batida and electronic musician puts forth his own meticulous, otherworldly sound and reconnects with the avant-dance spirit of the label's early years'.