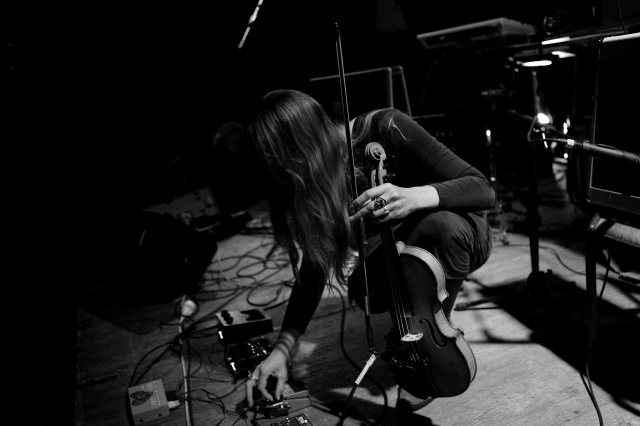 Agathe Max


Violinist Agathe Max is a graduate in Electroacoustic Composition and, alongside different collaborations (Max Turner-Kuro, Farewell Poetry, Hell & High Water, Sathönay, Duane Pitre, Collectif Prisma amongst others), works on projects including music and sound design for documentaries, animated movies, short movies, theatre, contemporary dance and art exhibitions.
Trained in classical music for ten years, she graduated at the Bourgoin-Jallieu School of Music, France, in 1995. Later on, she got exposed to improvised music and to the experimental scene. Inspired by a world both enchanting and draped in darkness, she has developed a wide range of sound textures, unique and melodious, creating unconventional and magnetic musical pieces reflecting a personality in constant search of rareness in music. Her concerts are a musical gift to many festivals in France and abroad, with enchanting and fascinating performances.
She released her first album, self-produced, in 2006, entitled Solace the Grizzly.
In 2007, the independent record label Angry Ballerina released a live album, Sonic Live, recorded at Sonic, a prestigious musical venue in Lyon, France.
The same year, Max's encounter with the drummer and composer Jonathan Kane was crucial and led her to collaborate with the record label TABLE OF THE ELEMENTS with whom she released her third album This Silver String in October 2008. It was widely acclaimed by the press and presented in tours throughout the US and Europe.
Dangerous Days, her first LP, was released on February 2013, on the French label Inglorious Records. More orchestrated and deep, the six tracks of this album have in common soundscapes leading to reverie and contemplation with hypnotic rhythms and surprising tunes.
Her album Ambiance 2 was released in April 2014 by BoxBedroomRebels label, Manchester. It is an homage to Brian Eno's Ambient, including one EP with two tracks and a CD long play with a 75-minute meditative piece.
She has also created an electronic project called OFIELD, which mixes environmental sounds with effects and loops, creating a new kind of soundscape for an imaginary land. This project was born of a residency in Lozère, France, during the summer of 2015 with the interdisciplinary artistic collective, Prisma. OFIELD is linked to the tradition of Electroacoustic Composition and represents the continuity of Agathe Max's work.